Eastvale has been officially incorporated as a city on October 1st, 2010. Eastvale is located on the Northwest part of Riverside County in California. Eastvale is a family-oriented neighborhood with many new homes, quiet environment, good schools and easy access to freeways, shopping centers. Many real estate developers have chosen this area for construction of new homes due to the popularity and demand. Eastvale area has many REO and Short Sale properties for sale which attracts real estate investors and bargain buyers.
I specialize in Eastvale area helping both home buyers and sellers with real estate needs.
Current Eastvale Real Estate Market
For Corona Zip 92880, here are the data from MLS:
Months of Inventory Active Listings Sales
Nov-2011 3.28 256 78
Dec-2011 3.50 266 76
Jan-2012 3.84 261 68
Feb-2012 3.26 241 74
Mar-2012 2.85 203 71
Apr-2012 2.76 213 77
Jun-2012 2.18 151 69
Sep-2012 1.64 133 81
Nov-2012 1.38 105 76
Mar-2013 0.75 51 68
Jun-2013 0.93 67 72

Sep-2013 1.64 128 78
Dec-2013 1.53 101 66

Mar-2014 2.16 145 67
Jun-2014 2.82 178 63

Aug-2014 3.41 198 58
Due to the fact that this is a new modern neighborhood with low crime rate and good schools the home sales projections for Eastvale remains optimistic and the numbers are steady.
Whether you are looking for a short sale or foreclosure properties or perhaps you would like to find more about Eastvale and Corona real estate contact me and I will be happy to accommodate you.
Eastvale Real Estate Growth
Some of the first homes in Eastvale were built around 10years ago and because of the great environment created by local residents and real estate developers area grew fast and has become one of the most desirable places to buy a house in Riverside County.
In the past Eastvale was mainly a farming area with many dairies and ranches but first real estate developers have realized the potential of this area and have made very attractive offers to local ranchers. At the beginning of the local real estate boom Eastvale was relatively unknown area where a few experienced real estate investors and people who liked rural community environment have decided to settle in and at that time you could find a large chunk of property with a pool and a large backyard starting at a little over $200,000. But soon the word got out and housing developments projects had waiting lists with over 200 names. At that point home values started going up at a fast pace and by 2006 most homes in the area have doubled even tripled in value.
The incorporation of Eastvale as a city was a result that the community was not embraced by officials in Corona and Norco and due to local community efforts in 2010, Eastvale has officially become a city.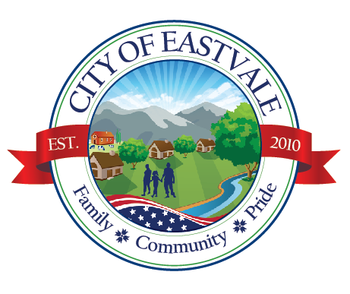 Provided by greenpot.com discount real estate specialist